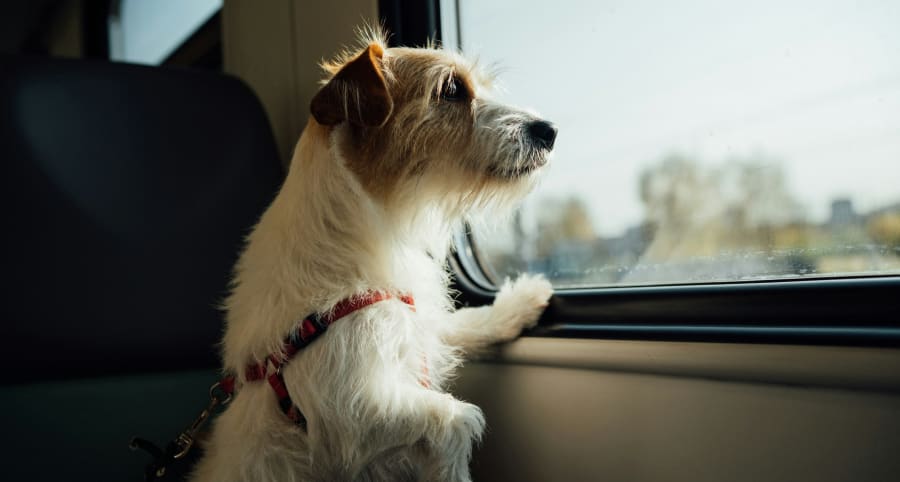 Is it possible to bring a fury friend on the train? 🐶⁠
Fur sure! The majority of the train operators in Europe allow pets. You're even allowed to bring two smaller pals for free. As long as they're on a leash, stays on the floor and kept out of the bistro. Small friends can also be kept in a travel So if traveling far, bring an extra bone or toy. ⁠Larger 4 pawed friends usually travel for a reduced rate. ⁠ The rules do differ, but stay pawsitive & remember to check with the operators individually before booking!⁠⠀
Everyone are different, you know your pet the best, but here are our tips & hacks.
Booking
Avoid rush hours.  Consider the time of day you are travelling to avoid the most hectic hours. Rushing for your train will only result in your 4 pawed friend becoming anxious and stressed.
Short train legs. It's recommended to try to find shorter train rides, around 5 hours. And plan breaks in the journey allowing your little friend to stretch the legs.
Choose the pet compartment. Many trains have a specific pet friendly compartment. When booking, look it up.
Opt for a quiet coach or seat. Choose a table seat for more room or encourage your pet to sit under your seat.
Planning
Pack a bag.  If traveling longer distances, pack a bag for your pet including a water bowl, a bottle of water, veterinarian details and any medication required.
Bring the favorite rug. Keeps them calmer to sit on something that is and smells familiar.
Prepare for travel sickness.  If your pet suffers from travel sickness, prep that special remedy to avoid it. Give it 3-4 hours before departure.
When out traveling
Go for a walk.  Take your dog for a walk before you travel. That should encourage them to sleep the major part of the journey.
Be in good time before departure. And ensure you arrive at the train station ahead of time. If possible, to have time for "the dirty duties" before going on the train.
Be aware of other pets.  Remain aware of other animals that may also be traveling to avoid any potential disagreements that could arise.
Eyes on the Tail. Remember to be aware of where your dog's tail is… you don't want anyone to step on it!
Be careful leaving the train.  When at destination, be cautious when going off the train. Try to be the last. If your pet seems nervous, gently lift them over the gap between the train and the platform.
For more detailed information, read here .
Hope that made you a bit more confident. Hope to see you on the rails with your 🐶🐱🐰!
//Yours All Aboard train-pet-traveler Carl