Buy your Global Interrail Pass
Digital passes
No need to deal with paper forms anymore. Access your pass directly in the Railplanner App.
100% refundable
All money back if you change your mind, without any cost. Prior to activating the pass.
Instant delivery
Buy your Interrail pass and get your activation code in just a few seconds.
General Terms
Only European residents can travel with an Interrail Pass

Most high-speed and night trains require a reservation at an additional cost

All Passes are 100% refundable or exchangeable

Activate your Pass in the Railplanner App within 11 months of the issue date

Up to two children under 12 years travel for free with an adult & children under 4 years don't require a pass
What is Interrail?
Interrail is a train pass that makes train travel in 33 European countries super flexible. You buy a pass based on how many days you want to travel and then you are ready to jump on the next train.
Different Passes
Global Pass  – Explore 33 different countries, all the exciting cities, the sunny beaches, or the tallest mountains. Europe is yours to discover.
One Country Pass  – Unlimited travel in one single country. Go clubbing in Berlin, bike along the Rhine in Bonn, or catch a football game in Leipzig.
Travel days
After deciding where you want to travel you choose the number of days you want to travel. Not the length of your trip but the actual days you are on a train. Going 1 hour from Berlin to Leipzig or a 12-hour train ride with multiple stops on one day, both counts as one travel day.
You can then choose if you wish to travel for several days in a row or if you want to spread your travel days out over a longer period of time.
Interrail on All Aboard
Choose between regular tickets and Interrail passes on All Aboard – to your next sustainable adventure. The flexibility of All Aboards trip planner and the different Interrail passes makes it easier than ever before to go by train.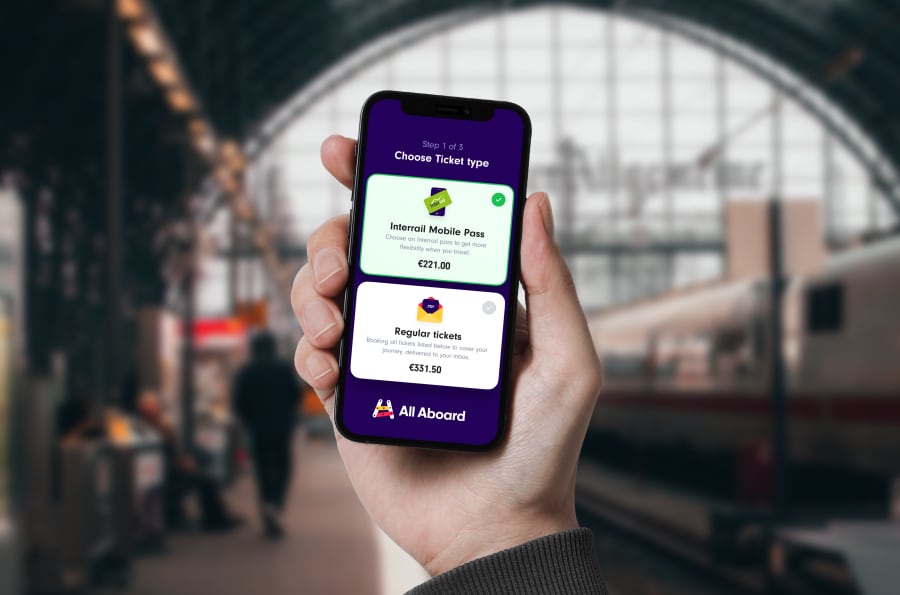 We'll do the math
When you plan your train trip at All Aboard we calculate and compare all available tickets for your train trip and suggest the best deal, to save you time and money. But the choice is always up to you!
Just like with our regular tickets, the Interrail Pass is a digital ticket too when purchasing it from us at All Aboard. No need to think about papers, it's convenient for both you and the environment. You'll get your pass instantly so you are ready to leave whenever you want.
You create your trip, and when you are ready we will give you the option to choose. You'll see an overview of your regular train tickets, however, we also present the Interrail pass that fits your trip and passengers the best. You'll see both options and what they cost so you can pick the best alternative for you.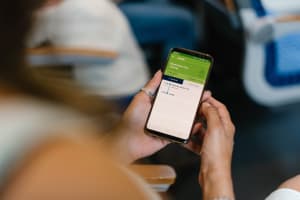 Activate your pass & book seats
Before your journey begins, you activate your Interrail Pass in the Rail Planner app ( iOS , Android ). During your trip, the app is where you register your journey and from where you can show your ticket to the train conductors.
Book seats if you need to be somewhere at a certain time or if it's high season. Most of the time you don't need a reservation but there are a few exceptions. A rule of thumb is that it's always the case on night trains and high-speed trains.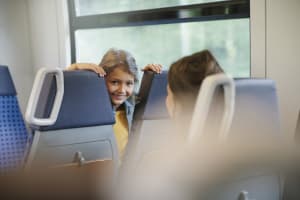 Perks with Interrail
Always 100% refund – up to 11 months after purchase
Kids under 12 travel for free (two kids per adult)
The majority of trains don't require seat reservations
Includes one in- and outbound journey from your country of residence
It gives you access to a range of discounts and offers around Europe, like free ferry rides or cheaper bike rentals
FAQ
Which countries are included in Interrail?
Austria, Belgium, Bosnia-Herzegovina, Bulgaria, Croatia, Czech Republic, Denmark, Finland, France, Estonia, Germany, Great Britain, Greece, Hungary, Ireland, Italy, Latvia, Lithuania, Luxembourg, Macedonia, Montenegro, Netherlands, Norway, Poland, Portugal, Romania, Serbia, Slovakia, Slovenia, Spain, Sweden, Switzerland, and Turkey.
Interrail for seniors
Travellers aged 60 or more can buy a discounted Interrail pass.
Interrail for young travellers
Travellers under 28 can buy a discounted Interrail Pass. Adult travellers can also bring along up to two children under 12 for free. DiscoverEU is a EU funded lottery where young people can get the chance to win an Interrail pass for free. Are you 18 years old and live in one of the participating countries? Read more and apply here!
Which routes are the best?
Check out Explore and Inspiration to find the best routes!